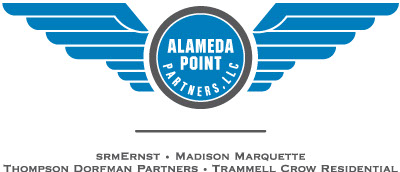 ALAMEDA POINT PARTNERS IS A TRUE BAY AREA TEAM WITH BROAD LOCAL RELATIONSHIPS AND EXPERTISE IN CREATING A RANGE OF MIXED-USE COMMUNITIES.
The development team has a track record for bringing jobs and business to Alameda and understands what it takes to bring quality jobs to the island. All of the principals and decision makers are located in the Bay Area, making Alameda Point Partners best positioned to understand issues and opportunities unique to Alameda and Alameda Point. Project lead, Joe Ernst of srmERNST, is personally invested in the community as an Alameda resident, neighbor and business member of 14 years, raising his family here. He understands what quality of life means to many Alamedans and is committed to preserving this.
The Partnership includes:
To create the Site A plan, the team has recruited local experts in design and transportation:
PROJECT LEAD:
Joe Ernst
510-219-5376
COMMUNITY RELATIONS:
Becca Perata
415-515-9156
COPYRIGHT ©2015 ALAMEDA POINT PARTNERS. ALL RIGHTS RESERVED.